Can't find what you're looking for? Contact us. Sign up for eNews' weekly emails and follow us on social media.
Like and Follow Us on Facebook
Our 1,000th Facebook follower and Facebook page like will receive some MMS Spirit Wear.
Thanksgiving Break - Student & Teacher Holiday
MMS Toy Drive, November 26th - December 7th
Murphy MMS Toy Drive, sponsored by the PAL Class, will begin after Thanksgiving from November 26th through December 7th. In the meantime, as you do your holiday shopping at stores or online on Amazon in the next few weeks and see a sale, please consider opening your heart and wallet and buy the toy to donate during our Toy Drive.
Top 5 items on wish list: Daniel Tiger, Nerf toys, legos, baby or LOL dolls, and trucks.
Your kindness and generosity are truly appreciated. Your donations will help to create some beautiful holiday memories for years to come.
Please click on the Toy Drive Flyer for more details. Email carina.tran@pisd.edu if you have any questions.
Truancy laws and parenting tips, November 28th
SCIENCE FAIR AND ENGINEERING FAIR, November 28th & 29th
7th and 8th grades only. Mark your calendar!
November 28th is the Annual Murphy Middle School 7th and 8th grade Science Fair and Engineering Fair in the Murphy Middle School Library from 8:30-12:30pm (judges only).
Parents and students are invited to view the fair on Thursday, November 29, 2018 from 7:45 am to 4:30 pm If you have a science background, and consider yourself a professional in your field of science and should you like to assist with judging, please visit https://goo.gl/forms/Ezs0KCI6TEDY4OOM2 with your preferred area of judging. Your time and expertise is essential to assisting our students to achieve in the next round of judging at the district and regional level! Thank you in advance for your dedication to helping our future scientists! After signing up, please look for an email as time gets closer. Thank you!!! Should you have additional questions, please email Elizabeth.Jones@pisd.edu or Mary.Lysell@pisd.edu.
MMS Environmental Club, November 30th
TThe last meeting for the semester will be Friday Nov. 30th in room E113. The MMS Environmental Club will enter the City of Murphy's tree decorating contest. Meet in Mrs. Pilgrim's classroom E113 and be ready to make tree ornaments out of plastic bags. Bring all ideas of creativity.
Upcoming Spirit Nights, December 3rd
Spirit Nights are a partnership between MMS PTA and local businesses. We advertise their business and in turn they give back a portion of their proceeds from that night to MMS PTA.
Don't forget to tell these restaurants you are supporting MMS PTA before you pay.
* Monday, December 3, 5-8 p.m., Chick-fil-A
* Monday, December 10 - Friday, December 14, all day, Nothing Bundt Cake
GLO RUN T-SHIRT CONTEST, December 3rd
Don't forget about the Glo Run t-shirt design contest over Thanksgiving break. Bring in your design after the break! We can't wait to see all our creative Mavericks' designs.
PLANO ISD ACADEMY PROGRAMS FOR 8TH GRADERS by DECEMBER 14TH
Online applications will open on November 16 and close December 14. Students will receive notice of placement on January 11 and student commitments must be received by January 18, 2019.
Learn more at www.pisd.edu/academies.
MMS SPEECH AND DEBATE TEAM, December 8th
Our next tournament will be December 8th at Renner Middle School. Please see Mrs. Norris during morning tutorials if your student would like to join the team! All grade levels are welcome!
Congratulations to the MMS Speech and Debate team for placing 3rd overall at the tournament on Saturday, October 13th at Bowman Middle School! Over 70 MMS students from 6th, 7th, and 8th grade competed against all the other middle schools in PISD and worked extremely hard to reach their goals. The following are individual placements at the tournament:
MMS SOCCER CLUB, DECEMBER 21ST
Do you want to play soccer with other students in Murphy MS? Start talking to your friends and begin forming your teams! Electronic copies are available in the Soccer Club Google Classroom (code to join 45747p) or you can find a soccer club sponsor (Mrs. Rooke, Mrs. Metzger, Mrs. Isbell, Mr. Murtaugh, Ms. Jo) for hard copies of the forms. Also keep an eye for the Soccer Club bulletin board across the library for updates. Games do not start until January but time flies so get started!
So far we have 8 teams forming and finalizing their rosters. All the forms are due Friday, December 21st. All students participating in Soccer Club need to return a signed parent permission form and take home a copy of the rules and regulations. The rules are attached in the document below.
SPRING PACE TESTING by January 16th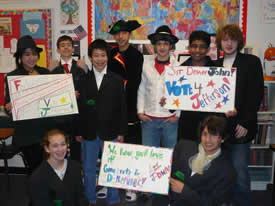 Is your student interested in participating in PACE next year? Testing for consideration to be admitted into the Plano Academic and Creative Education (PACE) program for next school year will take place next spring. Referral packets can be submitted online or on paper by Friday, Jan. 16 to Ms. McAnderson in E105. If you have any questions about the process please contact her at melissa.mcanderson@pisd.edu. The online version will automatically send an email to Ms. McAnderson when completed.
Glo Run, February 23rd
Early Bird Specials
Early bird Glo Run pricing until February 8th.
Mavericks Stampede Sponsorship Agreement
Become a Mavericks Stampede sponsor today by completing this form. Don't forget to follow us Mavericks Stampede on Facebook.