Can't find what you're looking for? Contact us. Sign up for eNews' weekly emails and follow us on social media.
Fall Semester Exam Schedule, December 18th-21st
Please note that we have early release at 12:40PM on Friday, December 21st.
Yearbook Photos Needed
Yearbook is looking for photographs of MMS students participating in their after school activities. Does you Murphy Maverick play and practice any sports (golf, tennis, soccer, horseback riding, swimming, etc.) after school? What about after school music lessons, or a chess club, or perhaps they volunteer regularly? Are they active in either Boy Scouts or Girl Scouts? We would love to show off these talents and skills in the yearbook.
Please submit photographs (amateur photos only; no professional photos due to releases) to yearbook@mmspta.org by Friday, December 21st. If you have previously submitted photos of your student in Off-Campus PE activities, you do not need to submit again.
For your convenience, we have a link to this email on mmspta.org > Our School > Submit a Picture for the Yearbook.
In the body of the email, please let us know the name(s) of the student(s) in the photo and the event name. We thank you for your photos, which we will consider for publication in the yearbook.
MMS SOCCER CLUB, DECEMBER 21ST
Do you want to play soccer with other students in Murphy MS? Start talking to your friends and begin forming your teams! Electronic copies are available in the Soccer Club Google Classroom (code to join 45747p) or you can find a soccer club sponsor (Mrs. Rooke, Mrs. Metzger, Mrs. Isbell, Mr. Murtaugh, Ms. Jo) for hard copies of the forms. Also keep an eye for the Soccer Club bulletin board across the library for updates. Games do not start until January but time flies so get started!
So far we have 8 teams forming and finalizing their rosters. All the forms are due Friday, December 21st. All students participating in Soccer Club need to return a signed parent permission form and take home a copy of the rules and regulations. The rules are attached in the document below.
SPRING PACE TESTING by January 16th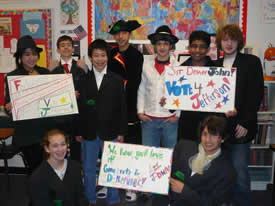 Is your student interested in participating in PACE next year? Testing for consideration to be admitted into the Plano Academic and Creative Education (PACE) program for next school year will take place next spring. Referral packets can be submitted online or on paper by Friday, Jan. 16 to Ms. McAnderson in E105. If you have any questions about the process please contact her at melissa.mcanderson@pisd.edu. The online version will automatically send an email to Ms. McAnderson when completed.
Truancy laws and parenting tips, January 16th
6th Grade Science/Engineering Fair, January 17th
Attention 6th Graders! All projects are due in the MMS library on Thursday morning of Jan. 17. All sixth graders are encouraged to enter but not mandatory. See attached for student handbook below. Students can ask their Science teacher for more information or a copy of the handbook.
Glo Run, February 23rd
Follow Mavericks Stampede on Facebook.
Early Bird Specials
Early bird Glo Run pricing until February 8th.
Mavericks Stampede Sponsorship Agreement
Become a Mavericks Stampede sponsor today by completing this form.
Like and Follow Us on Facebook
Our 1,000th Facebook follower and Facebook page like will receive some MMS Spirit Wear.
Help us be one of the few PISD schools to have over 1,000 followers and page likes.
Events
Tuesday, December 18
Wednesday, December 19
Thursday, December 20
Friday, December 21
Monday, December 24
Tuesday, December 25
Wednesday, December 26
Thursday, December 27
Friday, December 28
Saturday, December 29
Sunday, December 30
Monday, December 31
Tuesday, January 1
Facebook
Our 1,000th Facebook follower and Facebook page like will receive some MMS Spirit Wear. Help us be one of the few PISD schools to have over 1,000 followers and page likes.